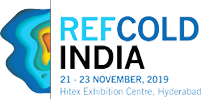 Exhibition Name
Exhibition Name
REFCOLD INDIA 2020
Exhibition Introduction
Exhibition Introduction
REFCOLD India is the principal destination for innovation, education and B2B networking for the entire refrigeration and cold-chain industry. Over 9,000 decision-makers and innovators from retail, food service, processing, production, distribution, logistics, and transportation representing frozen, refrigerated, ambient and fresh operations participate in this congregation.
Over the course of three days from October 29-31, 2020, exhibition, seminars and workshops combine to deliver the most valuable and comprehensive business-to-business networking event serving the perishables industry.
Companies that participate in this monumental event gain a high level of brand recognition and targeted business development opportunities amongst key buying audiences that produce, handle, store, transport or are involved in the distribution of perishable products. Brands get exposures in an arena where customers are looking to optimize their supply chain and improve facility operations.
Location And Time
Location And Time
TIME:2020.10.29-31 LOCATION:New Delhi,India
Contacts
Contacts
Zhang Wen (010-68719976, 1340115184)
Zhao Na (010-68712422)
Wang congfei (010-68450951)
wzhang@car.org.cn
nzhao@car.org.cn