International Cleaning Industry Brand Exhibition INTERCLEAN Hosted by North Star Events will Open Soon
Source:Beijing International Exhibition Center 2021-03-26
The INTERCLEAN CHINA co-organized by North Star Events, Beijing Branch of China Council for the Promotion of International Trade and RAI Amsterdam, and presented by Beijing International Exhibition Center Co., Ltd. will be held at the National Convention Center from April 19-21,2021. It is also an attempt made by the Beijing International Exhibition Center Co., Ltd. to implement the visions of North Star Events to introduce internationally renowned brand exhibitions such as INTERCLEAN, which is the largest global clean technology industry exhibition. INTERCLEAN CHINA is the first international exhibition organized by North Star Events and an internationally renowned exhibition organization. It aims to fully promote the cleaning industry towards a new era of intelligent and high-quality development, and facilitates application scenarios such as hotels and property management to achieve higher cleaning efficiency and standards by using new technologies.
Thanks to the appeal of the brand and offline activities, this exhibition attracts outstanding brands in the cleaning industry at home and abroad and strives to create a one-stop display and sharing platform for the industry. The exhibition is divided into 8 major sections: equipment, tools, smart cleaning, chemical agent, high-pressure cleaning, toilets, accessories, and smart management systems. The exhibition covers one-stop industry chain products and solutions such as cleaning equipment, sanitation, smart cleaning, medical and sanitation, steam high-pressure cleaning, window cleaning, rest room, garbage sorting, cleaning management and mobile solutions, and other related products and accessories, to realize full coverage of the cleaning industry chain. At present, the exhibition has confirmed the participation of well-known domestic and foreign brands in the cleaning industry, who will bring new products and solutions to the show. The exhibition covers an area of 16,500 square meters, and more than 300 well-known domestic and foreign companies will participate in the exhibition.
Part of the participating brands:
0%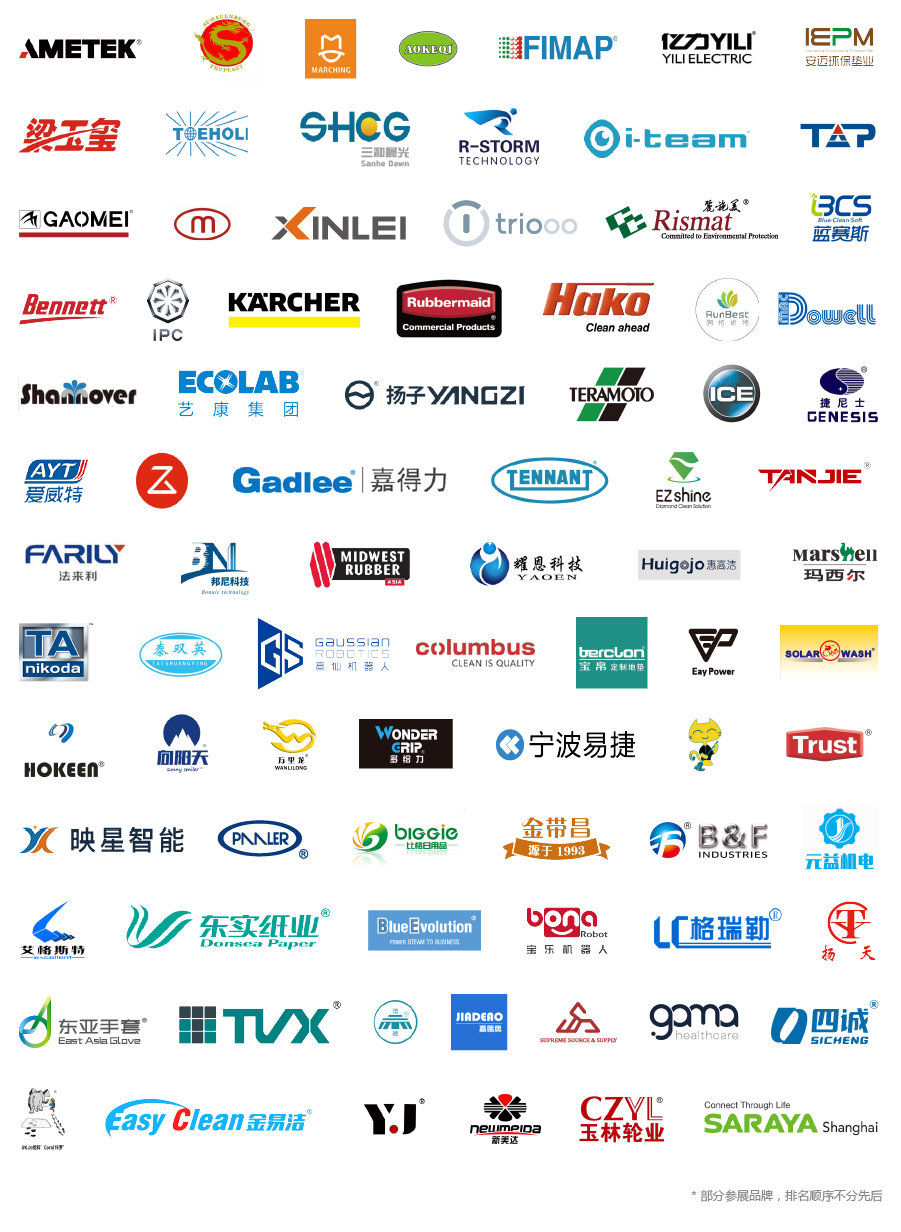 During the exhibition, cleaning industry associations such as Beijing Cleaning Service Association, Hospital Logistics Management Development Branch of the National Association of Health Industry and Enterprise Management will jointly host a number of forums on hotel environment, medical environment,and education environment to discuss the optimal solution of cleaning in various environments.
The schedule of forums and events are as follows: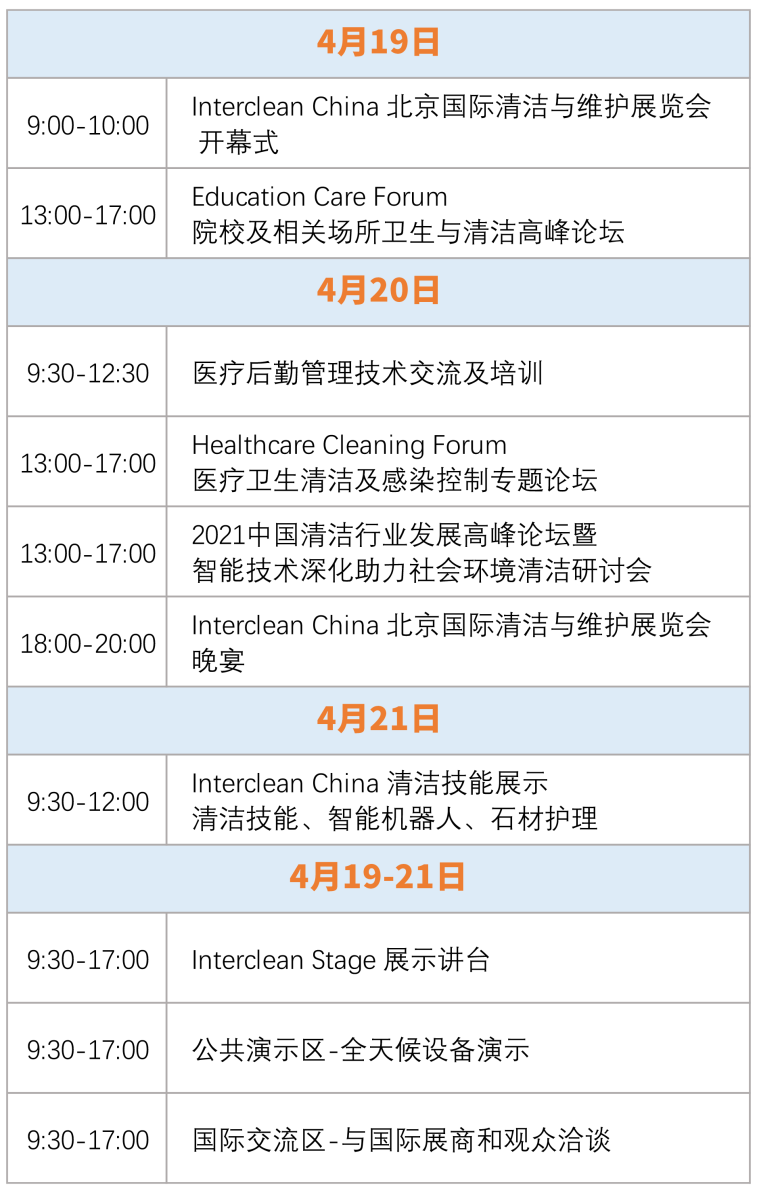 The exhibition will join hands with exhibitors to stage a grand event of cleaning technology and product launch for the cleaning industry at the National Convention Center.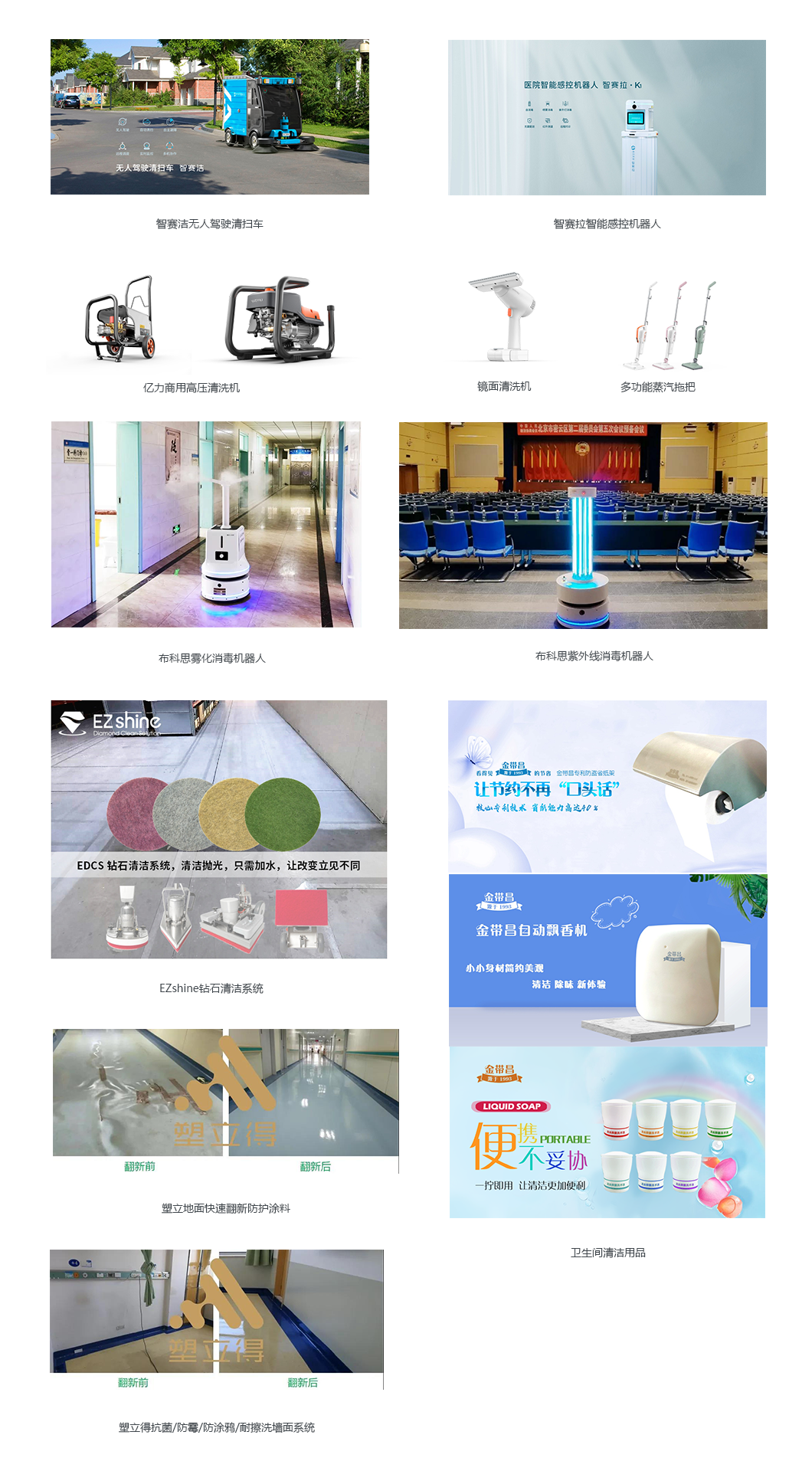 As a leading company in multiple industries including real estate, hotels, and property, Beijing North Star Industrial Group Co., Ltd. is not only an important user in the cleaning industry, but also a vital purchaser of cleaning equipment, tools, and services. We sincerely invite related personnel from the departments of the Group headquarters and the company's affiliated companies in conference and exhibitions, real estate, exhibition venues, hotels, office buildings, and property management to form a professional buyer group to visit and procure related products. The exhibition center will do its best to provide professional services.
For details of the exhibition, please visit the official website www.intercleanchina.com
If you are interested, please contact the exhibition center: 010-64932506